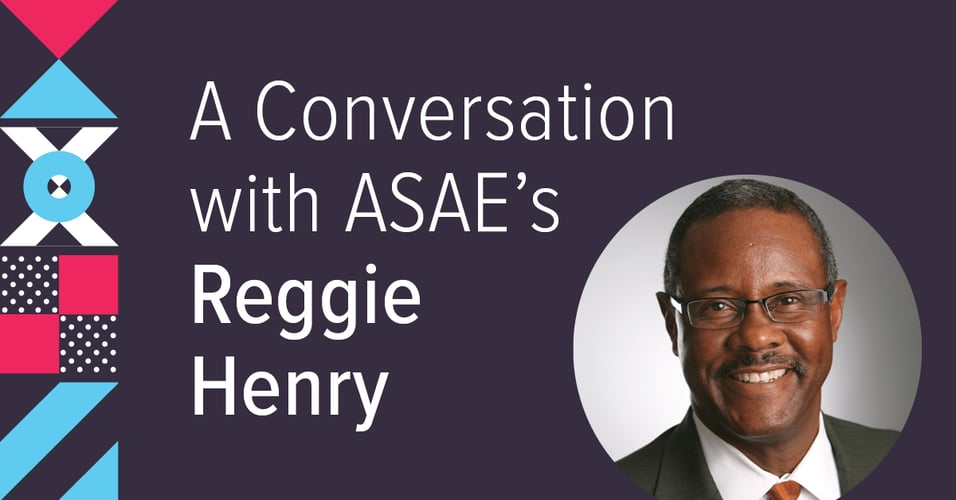 Reggie Henry: ASAE's Chief Information & Engagement Officer

Forj
Article | 3 min read
The environment we're working in today is complex and constantly changing. We're faced with an accelerating need for digital transformation. We're trying to keep pace with evolving member and consumer expectations. We're uncovering what the new "world of work" looks like.
All these things have forced association leaders to innovate and envision new strategies for the future. And as they do so, ASAE's Chief Information and Engagement Officer Reggie Henry believes there's an important source of knowledge and inspiration to be leveraged: past lessons learned.
In a recent sit-down with Reggie, Forj explored the risks and benefits of looking at the past when planning for the future.
FORJ: Tell us about the risks of legacy thinking and the future of associations.
REGGIE: Despite all the innovation I see happening in our association space, I keep seeing people try to apply new tools in the same old ways. Until we start to think differently about the problems we have in front of us, we won't get anywhere. There's something about the curious mind that fascinates me. People who are curious enough to think about problems differently and therefore solve problems differently … it brings different outcomes.
FORJ: One of the ways we have to think differently relates to meetings. What's your prediction for 2022 as it relates to meetings?
REGGIE: We can't forget the lessons we've learned. We learned that doing Association 101 type education, for example, can be completely fine online. We also learned there are certain experiences people have that you can't get unless you're right there with them. There are certain serendipitous conversations, [like] that time you pass somebody in the hall in between sessions. I think what the future holds for us is being true to the lessons we've learned and making sure that our face-to-face experiences are something people can't get elsewhere.
"I think what the future holds for us is being true to the lessons we've learned and making sure that our face-to-face experiences are something people can't get elsewhere."

- Reggie Henry, Chief Information & Engagement Officer, ASAE
FORJ: What has been the biggest change or challenge for associations to keep up with?
REGGIE: Our members aren't out of the pandemic yet, so their attention span for [what] your association is trying to get across is going to be an issue. We've got a workforce now that just thinks differently about work, where work has to get done, how work has to get done. We have to adjust; we have to adapt. If we don't, it goes back to some of that legacy thinking.

FORJ: What are the biggest investments associations are making to improve member experience?
REGGIE: I think there are some investments being made that are going to generate fruit in real time and some investments being made that will generate fruit down the road. I'm pleased with the number of associations I see investing in analytics, and not just in terms of having dashboards that tell you how you're doing, but things that are getting to an insight place and a predictive place. If I can know what members' challenges are in real time, then I can respond better. And it's not just the transactional data, but the data that comes out of our community conversations. That unstructured data is where there's some gold.

FORJ: What trends are you seeing when it comes to associations cultivating community?
REGGIE: I see more associations viewing community not as a standalone thing, but [as] something that needs to be nurtured. Most organizations still have special interest groups, and I think there's some opportunity to think about it differently. So maybe we start to create communities of need, not just communities of interest—people who are willing to work on and solve certain problems they're having.

It's community that makes community work. My experience has been that strategy has to be borne of the people who are in that community. If you don't include them, it's you doing something to them as opposed to doing something with them.

FORJ: What are you most optimistic about in 2022?
REGGIE: Taking advantage of the lessons learned in the last couple of years. [For example, associations are] starting to think about their live events as something different than they might have been pre-COVID. They're really focusing on networking and human connections and the people aspect of it. I see us being more thoughtful about which things can remain virtual and should remain virtual.