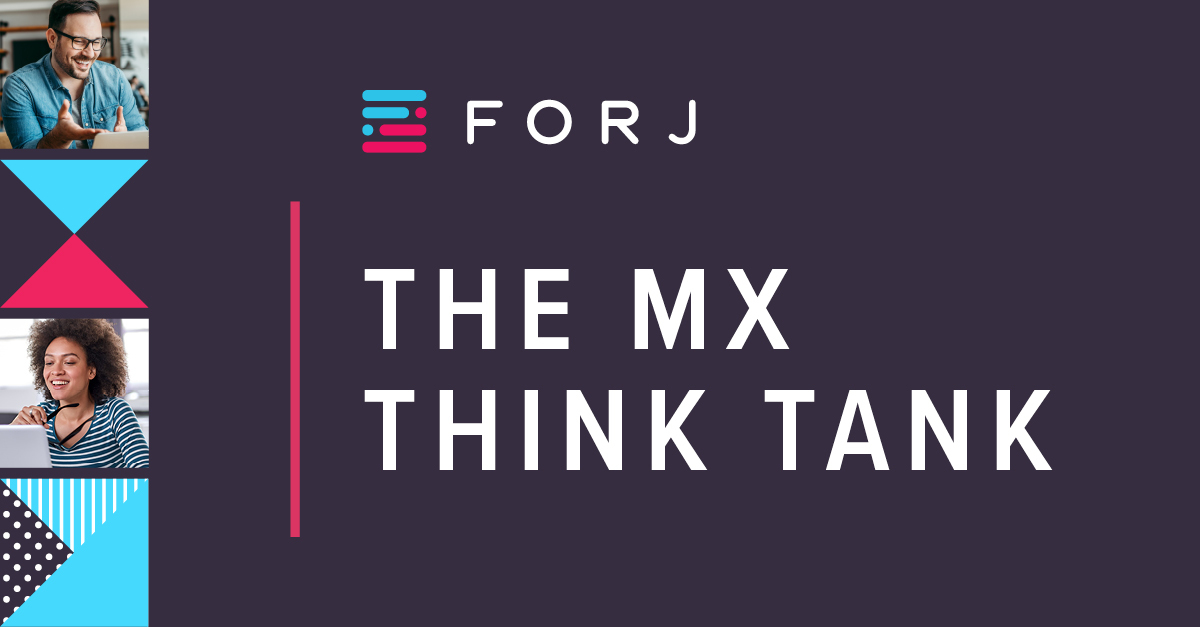 Forj convened an exclusive Member Experience Think Tank at the ASAE Marketing, Membership & Communications Conference. During the roundtable session, leaders came together to explore:
Current MX trends driven by evolving member expectations

How MX influences their marketing, communications, and membership strategies

The barriers they commonly encounter when it comes to evolving MX

Innovative ideas that have helped them drive an MX mindset association-wide
At the event, the participants took a deeper dive into their biggest MX challenges and took advantage of the range of experiences in the room by sharing the ideas they've cultivated, approaches they've pursued, and solutions they've discovered.
Here's a summary of what came to light during the session:
CHALLENGE: Strategic plan execution.
The good news is that member experience is a common pillar in many associations' strategic plans. The not-so-good-news? Some association leaders and their teams struggle to figure out how to execute on that pillar.
BRIGHT IDEA: One important insight that emerged from the group is that a sustainable approach to MX requires more than just fixing today's problems. It requires a big-picture view and a long-term (think: 3-5 year) strategy.
ACC (the Association of Corporate Counsel) has found success managing their strategic MX work in two-week sprints. Their approach creates visibility, accountability, and momentum that keeps member experience top of mind and continually evolving.
CHALLENGE: Ownership without control.
With member experience emerging as strategically important to associations' success, a lot of teams and individuals have leapt at the opportunity to own it. And while many stakeholders see themselves as responsible for MX, a common challenge lies in harnessing the authority or influence to meaningfully impact it.
BRIGHT IDEA: Think Tank participants were in agreement that adopting an MX mindset starts at the top and requires alignment and buy-in across the organization. One large association has defined ownership and enabled more staff to make meaningful MX contributions with their newly created MX division.
CHALLENGE: Technology.
It's clear that technology is critical to shaping the member experience associations want to deliver. But with so many systems—and some that don't talk to or synch with one another—association leaders are sometimes at a loss to create a seamless and user-friendly experience for members.
BRIGHT IDEA: Association leaders acknowledge that, in most cases, IT feels ownership of the systems and the "business" feels ownership of MX. NACUA (the National Association of College and University Attorneys) has started to facilitate better collaboration between the two by implementing a technology stakeholders group that meets regularly to align everyone and break down silos.
CHALLENGE: Emerging and adjacent competition.
The proliferation of content on the internet means associations are faced with new competition they haven't faced in the past. AIA (the American Institute of Architects) and APTA (the American Physical Therapy Association) put it perfectly when they said their members expect them to be Google (with all the answers) or Disney+ (with all the personalized recommendations).
BRIGHT IDEA: Association leaders know they aren't the only source of information relevant to their communities—but they can compete to be the authoritative source. Association leaders are leveraging technology and analytics to gain a deeper understanding of members' attitudes, behaviors, and beliefs, and the insights are helping them stay ahead of the competition amid shifts in member expectations.
CHALLENGE: Aligning and supporting the entire organization—including the frontline.
While it's encouraging that many association leaders recognize MX as everyone's job, many encounter hurdles in aligning—and empowering—team members to deliver on their MX vision. One example (harkening back to the technology challenges many associations are saddled with) is when the member/customer service team often doesn't have access to all the systems to answer questions—frustrating them and members.
BRIGHT IDEA: APTA discovered one way to tackle this challenge by rebranding Member Services as Member Success. With this shift, they implemented rotations inviting all staff into the Success team space to write thank you cards to members and, while doing it, listen to live calls to hear what's happening on the front lines. The practice has helped teams across the association gain better visibility to member challenges, hear feedback, and surface solutions to common requests.
We're grateful to each of the thought leaders who joined the MX Think Tank and contributed their perspectives to make the event a success. The dynamic discussion illuminated the state of member experience in associations today and left participants inspired to use the insights they gained to drive greater membership growth, engagement, and commitment in the future.