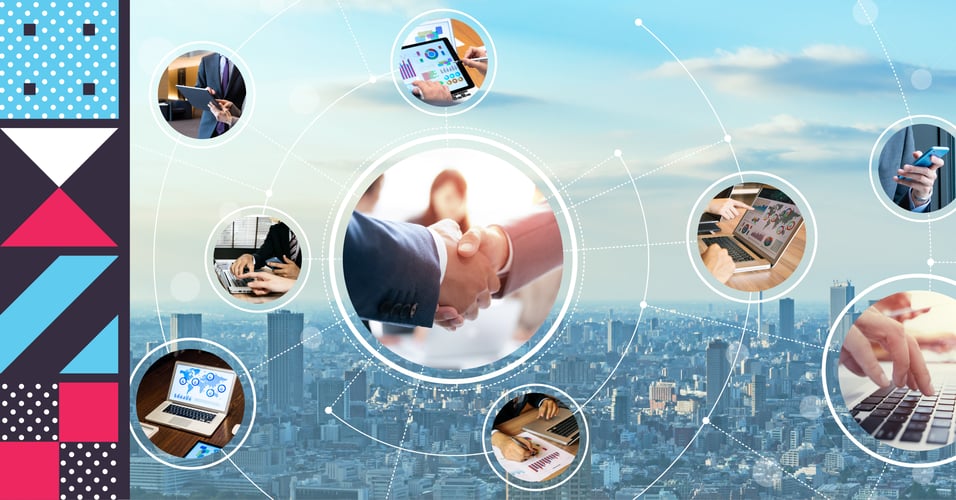 Association Software Buyer's Guide: Modernize your MX

Your association provides knowledge, resources, and a community that help members learn, grow, advance their careers, and forge long-lasting connections. Of course, fulfilling that promise requires robust and reliable technology that creates a sense of belonging and elevates the member experience.
Technology is critical to enabling your association's MX strategy, and your Member Experience Platform (MXP) is a central component of your tech stack. The best platforms not only provide a user-friendly, integrated, reliable solution for a seamless experience, but they also offer innovative features that boost connectivity and engagement. With the right features and support combined, you can reach new levels of loyalty, growth, and revenue.
As you build and evolve your MX strategy, it's important to take a close look at the tools and technologies you need to achieve your goals. But choosing a platform can be a big undertaking for an association. The biggest challenge in platform selection is often the time-consuming research required to weed through a wide variety of solutions, features, and—sometimes—hollow promises. As you weigh your options, remember that your MXP should be more than just a portal for hosting online meetings; it should be a tool that enables you to use compelling content and active engagement to create more fulfilling member experiences.
Whether you're exploring solutions for the first time or you're faced with a decision about continuing with a current provider, there's a lot to weigh in your assessment. Here, we explore the top considerations for first-time platform buyers, signs it may be time for a change at renewal, and what to look for in the right partner.
Shopping for a platform? Considerations for first time buyers:
Finding the right member experience platform involves more than viewing demos and comparing lists of features. It starts by building and evaluating your MX strategy.
It's only after you've done the groundwork to map your association's MX journey that you're positioned to identify and prioritize the technical requirements that will lead you to the platform best suited to support your strategy.
As you consider your platform needs, give less weight to bells and whistles and focus instead on the outcomes you want to achieve. Think dependability that eases the burden on your staff; intuitive design that creates a seamless experience for members; and access to insights that will help your community flourish.
Bear in mind that it's unlikely any MXP will fulfill your entire vision. Providers vary in their capabilities and areas of expertise, and your job will be to assess which one checks most of your boxes and is well positioned for the future. That said, there are a few non-negotiables that are table-stakes characteristics to look for in a platform:
Reliability. Reliable technology increases the speed and ease with which you do just about anything. A platform that demonstrates minimal downtime can help your staff achieve efficiencies and will ensure fewer disruptions to the member experience. Plus, a provider with capabilities to manage the scale and complexity of your association will be best equipped to help you grow and evolve your strategy.
Ease of use. For both your staff and your members, the user-friendliness of a platform can make or break the experience. Platforms that offer a simple design, intuitive navigation, and custom-fit features are most likely to provide a stress-free experience that eliminates staff headaches and keeps members coming back.
Integration. The right platform will offer some level of integration that helps you reduce the complexity of working with multiple technologies. Not only does that create a more seamless experience for staff and members, but it can also add up to big savings in terms of time and costs.
Meaningful data analytics. The data that lives in a member experience platform can offer valuable, actionable insights to help you identify how well you're meeting your strategic objectives. Plus, data analytics help you give members a more personalized experience, serving up the content and connections that are most meaningful to them.
Pro Tip: The right platform can help you repurpose relevant content across various touchpoints to reach more members with more resources more often.
Up for renewal? Signs it might be time for a change:
When you're already partnered with a provider, it can be tempting to opt for renewal even if you're on the fence about whether the platform is the right fit for you. The task of vetting new partners and implementing another solution isn't one to be taken lightly.
Still, your association's success depends on your ability to deliver an exceptional member experience, so moving forward with the right MXP is critical. When you're faced with a decision about whether or not to renew your current contract, a few red flags may signal it's time for a change.
Stagnation. A platform provider with a lackluster approach to innovation is sure to keep your strategy stuck. A partner whose platform features have failed to evolve and meet only the status quo is unlikely to offer a sustainable, long-term solution that can continually advance your strategy.
Technical hurdles. A lack of important integrations—such as single sign-on capabilities—may prompt you to seek an alternative. Similarly, when a platform is difficult to navigate or consistently experiences glitches or downtime, you'll know it's time for a change.
So-so service. There's a big difference between customer service and client success. If your provider offers the bare minimum support and only demonstrates interest in forcing you into a one-size-fits-all solution, you should consider turning elsewhere.
Who's behind the curtain? How to choose the right partner:
It's clear that selecting the best member experience platform for your association comes with many considerations. But weighing platform pros and cons the right way requires a peak behind the curtain to ensure you're gaining a partner and not just a provider.
So, what ranks at the top of the list when it comes to a partner prepared to help you build and advance your MX strategy?
Vision. Any time you adopt a new technology, it's important to know what the company stands for and their role in your industry. As you vet potential partners, ask about the provider's passion for associations and consider its likelihood to help you stay ahead of the curve and deliver a measurable return on your investment.
Innovation. A partner eager to evolve with you will be enthusiastic about taking their technology to the next level. They'll continually seek ways to uncover and understand your business challenges and present you with solutions.
Balanced support. The best partners are with you day-to-day for on-demand support and by your side long-term helping you set and execute strategy. Look for an MX platform that will pair you with a dedicated client success manager who will help with everything from right-on-time solutions to building an enduring business case and measuring the program's impact on your revenue growth.
Expertise. The member experience is not one-size-fits-all, and the best platform providers get that. A partner who understands associations —and the unique challenges and opportunities that come with it—will help you meet your association's objectives and your members' needs.
Pro Tip: Consider cultural fit with a platform provider. Synergy with the right partner will help you manage and maximize your investment.
Summing it up
As you continue to design and evolve your association's MX strategy, you'll find countless ways that the right platform can help you transform the member experience from transactional to transformational. And that transformation can help you:
Increase your reach and attract the next generation of members.

Boost loyalty and retention by enhancing the value of membership.

Create unlimited opportunities for engagement, collaboration, and networking.

Streamline your tech stack to reduce time, effort, and costs.

Showcase your ability to deliver the experience members are looking for.
With the right MX platform and a partner to support your strategy, you'll be positioned to elevate the member experience—and reach new levels of growth, revenue, and engagement.