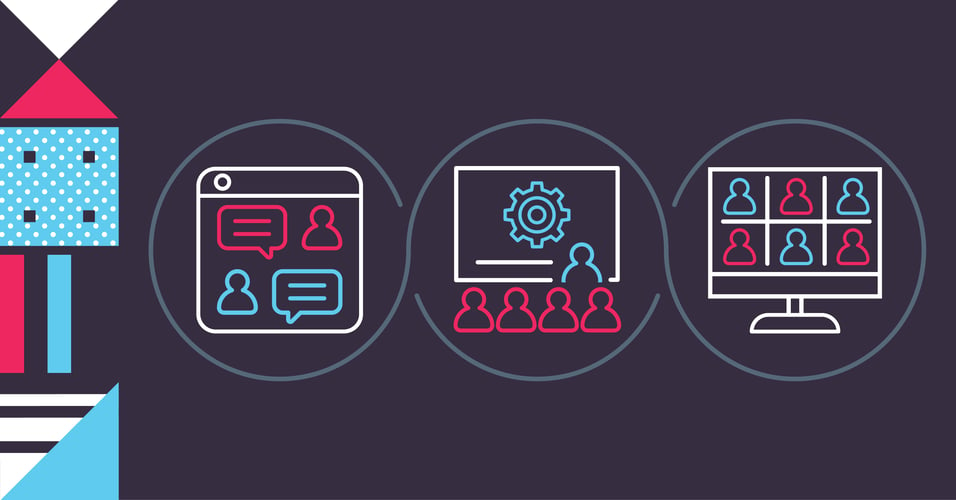 Social Learning Success: Technology, Content & Community

The average professional can dedicate just 24 minutes per week to formal learning. With so much competition for members' time and attention, associations are challenged to reimagine traditional learning—and their offerings.
In the past, associations have emphasized providing a service—such as training or certification—in exchange for membership dues. Today, they realize the power of social learning that allows members to engage as learning partners. In a dynamic session at ASAE TEC, we tapped into one association leader to explore the importance of community and the role of technology in advancing associations' learning strategies.

This recap of our conversation with Terri Hinkley, Chief Executive Officer at the Academy of Medical-Surgical Nurses (AMSN) and medical surgical nursing certification board, offers insights about how to deliver new and innovative learning experiences.


How do you define social learning?
Terri entered the association space ten years ago, pivoting her career in nursing to an association leadership role in which she could advance and evolve the access to ongoing education that nurses need. At the same time, she pursued a Doctorate of Education in Human and Organizational Learning.

"There were four main pillars in the program," Terri explained. "Learning, leadership, culture, and change. This helped solidify why the role of associations is so important."

Terri considers herself an evangelist of social learning. "It is defined as a process, and it has a large cultural component," she said. "You can learn through independent activities, but it's a much richer experience if you're on that journey with someone."

Social learning theory looks at learning as a social and environmental activity that takes place beyond the individual. We can all recall how our learning has been furthered through interactions with others. Tapping into someone else's perspective contributes to the one we've developed, expanding our thinking and increasing our knowledge.


Why is social learning so important for associations?
"Social learning is tied integrally to what an association is," said Terri. "Professionals are looking for connections and the opportunity to learn from one another. A natural extension of professional associations is to be involved in learning and knowledge generation and to do that with the collective membership."

Terri believes one of the things that makes professional associations so unique is members' willingness to share. They join with the common goal of advancing their profession and see their association as a hub to gain support, knowledge, and best practices.

"Our members are always so incredibly willing to share the knowledge they have," Terri said. Their engagement and participation fuel AMSN's vision and mission: to advance quality patient care through professional development, advocacy, scholarship, and certification.


What does the external environment look like, and how does that impact members' ability to engage and learn?
Terri recognizes that professionals—especially those in healthcare—have been through a lot from the pandemic to today.

"We're seeing burnout in healthcare practitioners, enormous turnover," she said. "That turnover is largest in new nurses, but we're also seeing a lot of long-tenured nurses retiring early."

Increased levels of burnout and turnover are stressing the healthcare system. Hospitals have been impacted financially, making it difficult to provide nurses with the necessary resources and education.

"Nursing follows social learning in practice, with a long orientation, mentoring or precepting," said Terri. "But we're losing the mentors and the preceptors with the expertise to pass on, and it's stressing the entire system. It's a cyclical, challenging environment."

Given the current stressors on the healthcare system, Terri sees that it's becoming harder for individuals to engage in professional development. She also sees the opportunity that technology presents to fill educational gaps.

"Some are being tasked with taking personal responsibility for their development," she said. "There's an opportunity for us to make sure we have what our members need with a robust educational catalog, webinars, and recordings. It allows members to access education just in time or as they need it."


How are you evolving your learning strategy, and what investments are you making?
To keep pace with members' needs and expectations, AMSN has emphasized investing in content.

"We developed the first-ever competency framework for medical surgical nurses working with learning experts," Terri said. "It includes over 400 knowledge and task statements, so if someone were to identify a competency gap, they can see all the content we have that fits that domain and whether it's entry, intermediate, or advanced level education."

Recognizing that online environments are playing an increasingly important role in helping members engage, interact, and learn together, AMSN provides nurses with a forum for social learning. Terri describes it as "a community in which people engage with each other and co-create learning."

As Terri considers how AMSN's learning strategy will evolve over five or more years, she's leaning into analog thinking. "Analog thinking is looking for analogies and things you can leverage from other industries," she explained. "It's characterized by extrapolations from the familiar to the unfamiliar, rather than by the use of formal logic or consecutive reasoning."

She used the example of gaming as a social activity where people work together to achieve a common goal. Terri is convinced learning is moving in this direction with the advent of technologies like virtual reality and immersive, gamified education.

"We'll see diverse teams from around the world embedded in learning situations together," she said. "One of the benefits of the philosophy of gaming is it's a lot of trial and error. You learn differently in a game environment; it allows you to try different things."
What are some easy social learning strategies to implement right now?
Terri encourages leaders to uncover examples of social learning that already exist in their associations but may not be viewed that way.

"We already have platforms that allow community to come together, so identify leaders who will reach out and engage members in that learning journey," she said. "One thing we're doing is teeing up a conversation in advance of a webinar and then continuing the conversation after."

AMSN has established an Educational Engagement Committee to answer clinical questions from members with evidence-based practices. They also drive continued conversation and invite others to provide responses. "It's easy to do, doesn't take much investment, and is a good starting point," Terri said.

AMSN, like many associations, has also seen an uptick in demand for digital content. They continually seek to provide that content while also promoting in-person opportunities. Their annual conference offers a streaming component that allows members to engage with other virtual attendees as well as live attendees. "Streaming is a good way to provide an opportunity, especially for those who cannot afford registration plus travel out of pocket," said Terri.

As association leaders consider their learning strategies for the future, finding ways to reimagine traditional learning will empower them to evolve alongside members' changing needs.