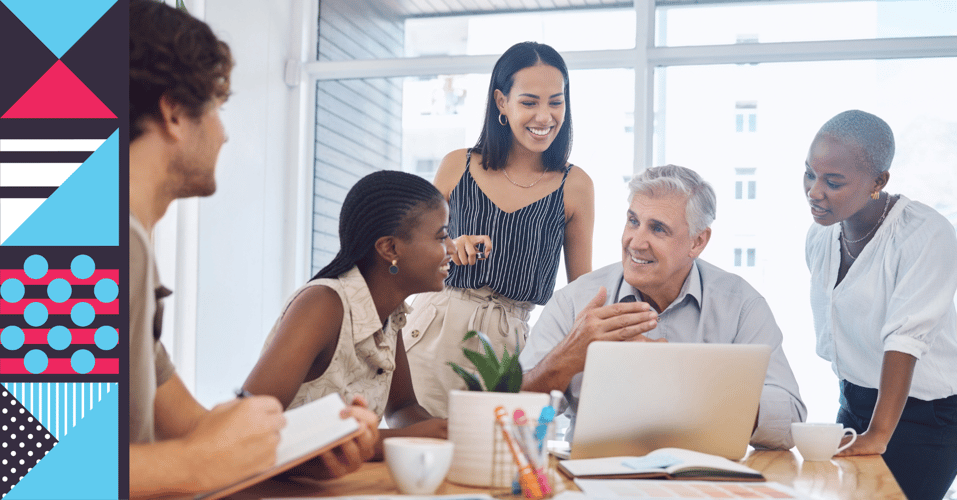 How to Design Your Community Strategy: Roles and Badges

Imagine a thriving online community where members make meaningful connections and contributions. They have access to experts who can help them solve their toughest challenges. They can easily expand their networks by finding people who share their interests. They create a culture of reciprocity by sharing their experience and expertise.
As a leader, you play a pivotal role in enabling this experience. But as a community manager who's likely stretched thin, you can't do it alone. A thriving community requires a strategy centered on collaboration and clear expectations, and two essential elements of that strategy are roles and badging.
As you work to cultivate your community, you know that you want to:
Encourage members to take on leadership roles.
Help them identify expert resources and make connections.
Recognize them for their meaningful contributions.
On the Forj Community Platform, Roles and Badges are designed to help you meet these objectives.
Creating Clarity with Community Roles
We know from our State of MX 2023 research that one of the main reasons members join a community of practice is to connect with other members. Members play a big part in shaping the community experience, and Community Roles can help guide and facilitate their efforts.
Community Roles offer several advantages, from promoting clarity to fostering engagement. When Community Roles are well-defined, both staff and members better understand expectations, which helps your community operate more seamlessly.
Here's how to think strategically about designing your Community Roles:
Consider the make-up of your team. In a rush to define responsibilities, it's easy to fall into the trap of assigning too many different roles. Give careful consideration to the members of your staff and members who are engaged (informally or formally) in community management today. How could their participation translate to a more formalized distributed leadership structure? Think about assigning roles like:

Ambassador: Someone who enthusiastically greets new members.
Connector: Someone who introduces members who might benefit from knowing one another.
Creator: Someone who manages or monitors the content calendar and posts on a regular basis.



Reflect on your community's needs. Every community is unique, and Community Roles are customizable. The number and type of roles you create may depend on things like:

Your community's purpose and goals. Define your vision of a thriving community and assign roles specifically supporting the activity and engagement you want. This will ensure each role contributes to the community's growth and success.
Staff and member skills and expertise. Consider the traits and experience people should have to excel in the roles you've created. Assigning the right roles to the right staff and members will ensure they can effectively contribute.
Role holders' availability. Holding a formal role in a community requires commitment. Clarifying time requirements will ensure you match roles to individuals with the right bandwidth. The Forj Community Platform allows you to set term limits that can help here.



Develop and communicate expectations. Once you've settled on a structure, it's important to relay expectations. Members will likely be enthusiastic about joining your community's distributed leadership team, but they'll have questions, too. Be proactive by addressing things like:

Expected engagement. Offering someone a title is great, but it's crucial to communicate how you expect them to pitch in. This level of clarity makes it easier for members to step up and succeed.
Length of term. It's easier for a member to commit to a Community Role when they know the time frame associated with it (plus, it shows you've considered their life beyond the community). Implementing term limits can help you prevent volunteer burnout and ensure you periodically gain fresh perspectives.
Sharing feedback. You can (and should) regularly assess the roles you've assigned and adjust with the way your community evolves. Collecting input from staff and members will help you continually refine role descriptions and responsibilities.
What is distributed leadership?
It's no surprise that many community managers are stretched thin. Often, managing the community platform is only one of many responsibilities they juggle.
Distributed leadership in an online community refers to a structure where roles and responsibilities are shared among multiple staff and members. With a model like this, you not only spread the workload but also give community members a chance to contribute their expertise to the success and management of the community.
Community can only be accomplished together. This approach emphasizes collaboration, inclusivity, and empowerment, and we've experienced that associations using a distributed leadership model have more vibrant and successful communities.
Recognizing Members with Community Badges
Community Roles have dual benefits: they bring clarity to what might otherwise be chaotic community management, and they recognize members for their contributions.
But what about members who don't hold formal roles but still engage in the community in valuable ways? Community Badges acknowledge accomplishments that aren't tied to specific roles in your community and can help you connect with them on a genuine level and inspire ongoing engagement.
Here's how to think strategically about developing Community Badges:
Define community engagement. All engagement is not created equal. It pays to define your engagement criteria and identify actions that align with your community's goals. For example, do you want to reward "likes" or helpful comments on members' posts? Understanding what constitutes a meaningful contribution will help both you and members usher the community towards true success.
Determine meaningful badges. Community Badges are perfect for celebrating members who make truly meaningful contributions to your community—and those contributions can be big or small. You might recognize members for something as simple as attending your annual conference or something as pivotal as mentoring early career members. The key is knowing what makes a difference to your members and your organization.
Share and celebrate. On the Forj Community Platform, members you reward with Community Badges will receive an email letting them know. But don't stop there! Make member badging even more meaningful by shouting out accomplishments in the community. It makes the recognized member feel good and spotlights them as a helpful resource or connection for other community members.
A Quick Start Guide to Community Roles and Badges
Creating a community strategy is complex; roles and badging represent just one slice of the pie. We want to inspire leaders to be thoughtful about cultivating thriving communities, but we also want to help them gain momentum quickly.
Here are your key takeaways on Community Roles and Badges:
Start small and be flexible. You can create any Community Roles or Badges you like.

Begin with a manageable number and anticipate future expansion. Your roles and badges should adapt over time to suit your community's changing needs.
Be intentional. It requires genuine thought and connection to decide who your community leaders are and how you want to recognize them. Strategize with others in your organization and prioritize Community Roles and Badges that align with your community's values and goals.
Engage members. Talk with the people you're assigning Community Roles and Badges to. These conversations will help you refine role expectations and badge criteria. Plus, the open dialogue will create alignment and enthusiasm.
Experiment and evolve. Continuously experiment with new Community Roles and Badges. Adjusting criteria will help you keep the community experience fresh and engaging.
The Forj Community Platform helps association leaders cultivate thriving communities that forge meaningful connections. Community Roles and Badges are dynamic tools that can evolve alongside your community's needs to create a dynamic community experience.