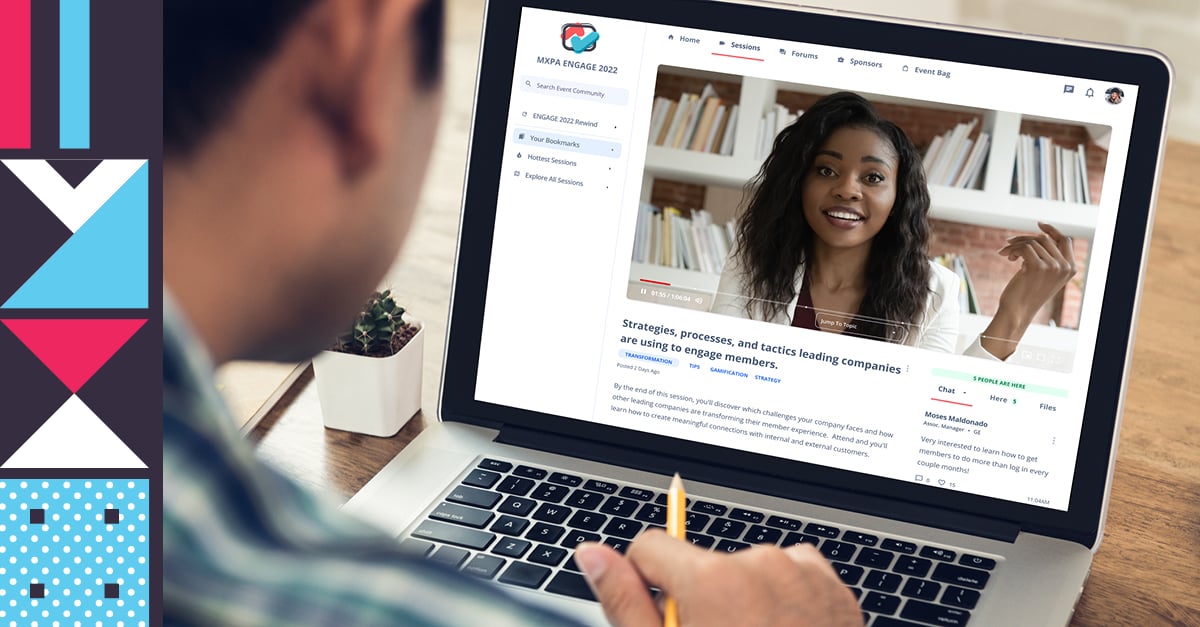 It comes as no surprise that attention spans - and content consumption habits - have changed. And through this shift, association leaders have struggled to maximize members' engagement with and the monetization of their rich libraries of content.
The changes in the ways people engage are evident in recent trends reports, which shine a light on the rise of dynamic content and a fusion of formats like audio, video, and text to create greater ease, accessibility, impact, and lasting impressions.
These emerging content preferences have organizations rethinking their strategies and searching for new ways to meet their audiences' needs. And for associations, it may be the push many need to explore new tactics and new technologies that can help them expand the impact of their content and increase revenue from new member products and sponsorship opportunities.
Member Experience Maturity
As association leaders and their teams envision the future, many are strategizing the steps they'll take to elevate member experience. The Forj MX Maturity Model lays out the dimensions core to meeting members' expectations, including Content Strategy.
Your content strategy is critical to delivering member value, but simply ensuring timeliness and relevance is table stakes. A truly thriving content strategy is responsive to members' needs, with high levels of personalization and an "always-on" approach that allows for continuous and flexible engagement. To achieve that, you need Community Intelligence.
The Content and Engagement Flywheel Effect
Community Intelligence is unique to the Forj Member Experience platform and is the key to helping associations improve content consumption and increase engagement.
Community Intelligence measures your members' engagement habits—the articles they're reading, the videos they're watching, the sessions they're attending—and analyzes how they're interacting with and responding to that content. These insights help the platform serve relevant content personalized to each member, helping them learn, find answers, and connect with other members like them. And that level of personalization keeps them coming back, creating a flywheel effect that accelerates greater and greater engagement.
Smart Content: A Forj Differentiator
One way associations can set the flywheel in motion is by leveraging Smart Content, a differentiator of the Forj Member Experience platform.
Smart Content helps you elevate the member experience, setting your on-demand events, videos, and long form content apart. It is dynamic and interactive and offers greater ease and control for your members.
Here's one example of how Smart Content works: Let's say you host a captivating opening session at your annual conference. After the event, your participants will have access to tools that put them in control, allowing them to choose when, and how they engage with the video replay.
With Smart Content playback, a complete transcript is available beneath the session's video, allowing members to read along or scan the transcript at their own pace. The transcript appears side-by-side with the archived session chat, where attendees can follow along with the conversation that happened during the live event or filter by insights such as questions, ideas, or action items. A topic analysis also identifies which terms were trending, and summary topics and tags call out areas of interest and allow members to jump to certain portions of the session.
Benefits Beyond a Single Session
Smart Content delivers increased value and a more seamless experience for you and your members. And when you take full advantage of the feature, you're equipped to optimize each engagement and refine your long-term strategy.
With Smart Content, your team gains:
Greater ease in repurposing and sharing to extend content shelf-life

Better visibility to your content library with tags that streamline archival and management

Increased ability to measure engagement with a clearer view of members' consumption habits

More opportunities to increase nondues revenue by monetizing content and creating new sponsorship opportunities
Smart Content also elevates the member experience, giving them:
Greater ease accessing content that meets their needs with topic summaries and tags

More control and time savings when watching recordings and playback, with the ability to speed up, slow down, and jump around

Better flexibility navigating content, with the ability to search and scan for the topics most relevant to them

More resonant content that's tailored to their preferences and areas of interest and automatically served up
Modernizing your experience and content strategy enhances your membership value proposition and increases your members' commitment to your organization.