[VIDEO] Taking Canada's Largest Academic Event Virtual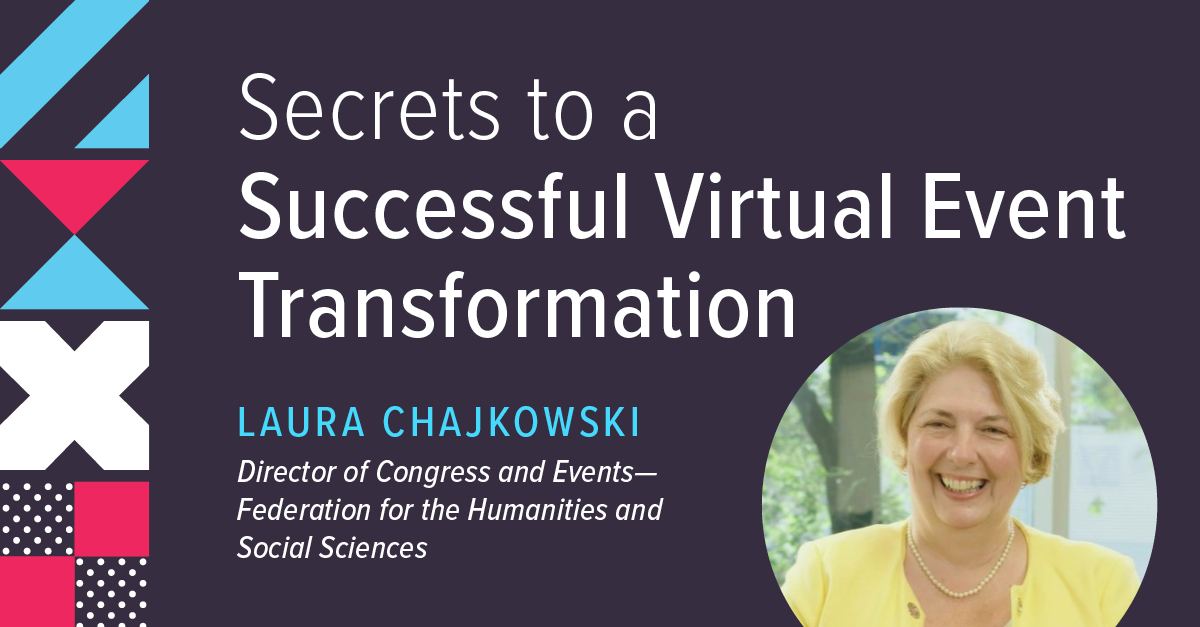 The Congress of the Humanities and Social Sciences is Canada's largest academic gathering held annually. Attracting over 5,000 attendees and featuring over 1,700 sessions, the event brings bright minds together to share research, contribute ideas, and build partnerships tackling critical issues.
After canceling their 2020 event amid the COVID-19 pandemic, the Federation for the Humanities and Social Sciences (FHSS) was determined to reconvene their community members in 2021. To do so, Laura Chajkowski, FHSS Director of Congress and Events, committed to reimagining Congress 2021 as a dynamic, real-time virtual event.
"Associations are here to serve their membership. How do we increase the inclusion, opening up doors to an attendee that has never been able to attend Congress in person? Technology has become very important to the success of any event."
The Federation entered event planning with lofty goals. To ensure the success of the first entirely virtual Congress, the Federation knew they would need to:
Develop an appealing user interface and seamless attendee experience.

Foster engagement across all stakeholders, from association leaders to global members to support staff.

Ensure the safety of attendees during an uncertain time to maintain the community's connections.
The Federation understood that meeting these goals would require experienced and supportive partners capable of shifting a complex and large scale event, and they selected Forj as the platform provider.
Hosted in-person or virtually, an event of this scope comes with unique challenges—and opportunities. In addition to its usual sessions, Congress 2021 gave attendees hundreds of other ways to share and learn: networking lounges, a virtual expo hall, poster halls, curated galleries, pre-recorded performances, virtual tours, and more.
Planning and managing a program with so many unique touchpoints meant the Federation had to coordinate an intentional effort to exceed members' expectations:
Managing help desks and information centers throughout the event.

Monitoring each session in real-time.

Deploying and monitoring up to 98 sessions with simultaneous start times.

Posting technicians in each room to oversee live and simu-live sessions, including Q&A periods.

Managing and monitoring attendee chat and video boxes in real-time.

Recording 1,500 sessions and archiving them for access during and after the event.

Coordinating engagement opportunities throughout the conference, from yoga classes to play-to-win challenges.
As a result of a cohesive effort and solid partnership, Congress 2021 spanned nine days with 1,750 webinars, meetings, and other touchpoints. Most importantly, it reconvened dozens of associations and 6,200 members across 72 countries to resume a time-honored tradition in the social sciences and humanities community.
Lessons to Maximize Member Experience
Hosting an event of the size, scope, and complexity of Congress 2021 inevitably reveals insights and inspiration for others. The Federation identified several best practices you can consider deploying to create an even more engaging experiences for attendees.
Email. Before, during, and after the event, aim to reduce clutter in your members' inboxes by being purposeful in your approach to email (limit duplicated content, keep messages brief, insert hyperlinked text, etc.).
Social Media. Improve your overall reach and attendee engagement by creating and posting content that encourages interaction from your members (ask a question, include a poll, etc.).
Blog Content. Entice your members to register early and get them excited to attend with blog posts that offer a sneak peek of programming and drive traffic to your conference website (guest contributors, downloadable agendas, etc.).
PR Campaigns. Drive event awareness and attendance with targeted outreach to regional and industry media partners (media pitches leveraging event headliners, compelling member research, etc.).