Make Hybrid Events your Priority in 2021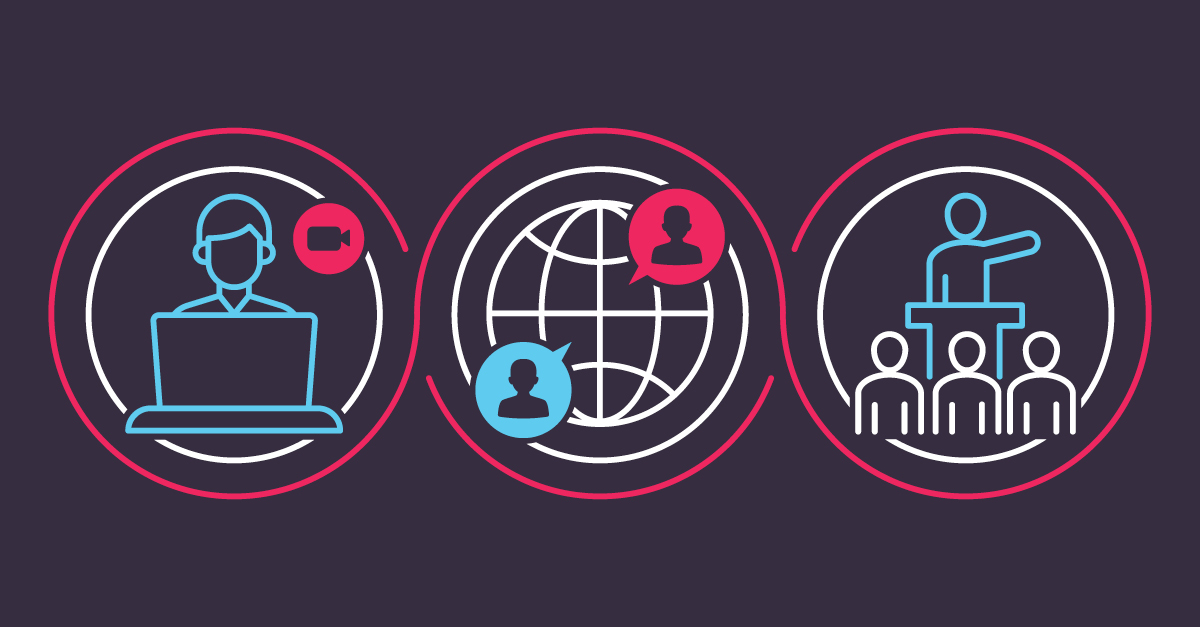 The big trend for 2021 conferences and conventions is to develop hybrid experiences that enable attendees to participate either in-person or virtually, depending upon their preference, budget and schedule limitations. After the abrupt shift to virtual events during the pandemic, event managers have now experienced the pros and cons of both live and online events, and we're seeing the potential to merge the best of both worlds to create more sophisticated events this year.
The benefits of offering hybrid events include:
Increased ability to attract attendees – especially those who would have to travel a long distance, or who are time or budget challenged – thereby increasing registration fee revenues. With an attractive event agenda and strong promotion, you can bring in those who typically can't attend your on-site event, including more junior staff at your attendee organizations.
Greater opportunities to craft sponsor packages that drive engagement with both online and on-site advertising, exhibit booths and lead generation activities. With a quality virtual event platform, rather than a traditional event website, you can create dozens of additional virtual sponsorship opportunities to generate more revenue for you and more leads for your sponsors.
Enhanced data analytics on attendee engagement with both session content and sponsor content, strengthening sales lead qualification and organizer's event performance data. By maximizing both leads generated on-site and data analytics from your virtual event platform, you can learn much more about event attendees, including which booths they visited, which sessions they attended and more.
Improved ability to attract highly sought after speakers who can participate either on-site or virtually and drive attendance and engagement. Every great event needs sales hooks to attract attendees, and great keynote speakers with interesting topics are critically important. Your conference attendees will be excited to attend a hybrid event that is well designed to incorporate a skillful blend of both in-person and online content contributors.
A more welcoming and inclusive environment for those unwilling or unable to travel to a live event due to health, disability, family or schedule concerns. In the past, those who could not attend a live event were only able to be fringe participants, with access to viewing recorded sessions after the event was over or downloading content sent in a follow up email. By promoting a well-crafted virtual attendee experience that is real-time and integrated with the in-person event, you're dramatically enhancing the potential to engage those who typically would not be able to join you.
So, how do you create a hybrid event plan that will maximize these benefits and also achieve your organizational objectives?
Choosing the Location and Platform:
To host a high quality hybrid event or conference, it is important to consider both the on-site and online amenities and engagement tools that will be needed. The physical location will need to have sufficient space to hold the sessions, exhibitors, meals and networking activities that you have planned. It will also need to have great Wi-Fi – even when a large crowd is online all at once on their phones using event-related apps. In addition, extensive and reliable audio visual capabilities will be needed to livestream keynote and educational speakers as well as awards ceremonies and other content so your virtual attendees can fully participate in real-time.
Your virtual event platform will need to accommodate hundreds or thousands of participants (potentially including both your virtual and on-site attendees), all of your sessions, virtual event halls with many exhibit booths, and numerous virtual networking lounges. A variety of discussion and engagement tools will also be needed so virtual attendees can participate in sessions, communicate with exhibitors and network with other attendees. It will also need to enable robust attendee profiles, attendee tracking and analytics for both the organizer and the exhibitors.
Designing the Attendee Experience:
Rather than design the physical attendee experience and just add in elements to engage the virtual attendees, we recommend that you reimagine both the physical and virtual attendee experiences to enhance the value to both cohorts.
Imagine how the physical attendee experience can be more engaging with mobile phone apps to communicate with other attendees – both physical and virtual – and view their profiles to learn more about them and identify common interests. Conversely, imagine how the virtual attendee experience will be enhanced if they can livestream educational sessions, ask questions of the speakers, and even participate in small group discussions with other physical and virtual attendees.
Technology can enable both the physical and virtual participants to engage in sessions, see expressions of other attendees, have different views of presenters and engage in group discussions. Gamification can bring both the physical and virtual attendees together to compete in scavenger hunts or bingo games that are designed to get everyone more engaged with exhibitors and networking activities.
Building Sponsor & Exhibitor Experiences:
In a hybrid convention or trade show, exhibitors and sponsors have a much broader array of opportunities to get the attention of event attendees. Instead of the traditional exhibitor directory and minimal profile on the event website, sponsors can have both physical and virtual exhibit booths, complete with marketing videos and collateral, and booth staff selling product via one-on-one conversations – both in-person and via videoconference or chat.
Sponsor packages can be designed to maximize brand awareness and lead generation both on the virtual platform and in the convention hall. The opportunity to sell naming rights and ad space for both the virtual lobby, auditorium and exhibit halls, and their physical counterparts will naturally increase revenue opportunities. And each keynote and educational session presents numerous opportunities for sponsor advertising.
Promotional merchandise in a sponsor swag bag may not be viable for the virtual attendees, but the same merchandise can be shipped ahead of the event to these prospective buyers. Sponsors can also create networking or product launch events that include both physical and virtual attendees, with livestreamed product demos or a group mixology lesson. The sponsor package opportunities are limited only to your imagination.
Measuring Performance:
Hybrid events present a growing opportunity to measure event performance like never before, with data analytics from both the physical and virtual technologies becoming more integrated and actionable. We are now capable of tracking not only exhibitor sales leads from both physical and virtual booths, but also session attendance and an array of attendee preferences and behaviors. With emerging technologies, it is likely that future hybrid events will become even more powerful marketing and educational tools for organizers, attendees and sponsors in the years to come.