Global Ethanol Industry Event Success for Attendees & Exhibitors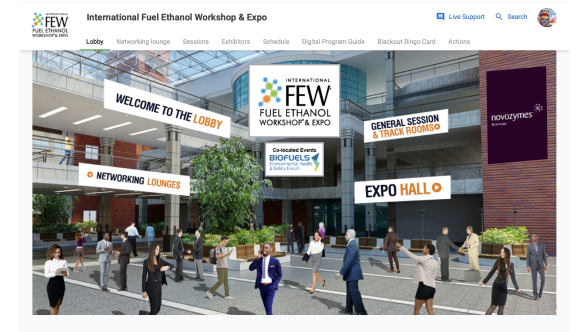 BBI International is the world leader in biofuels/biomass publishing and events, including the Fuel Ethanol Workshop (FEW), which is the largest gathering of ethanol producers in the world every year. It is a trade show, as well as an education and networking event for production/operations managers, leadership/financial professionals, product management and infrastructure/market development leaders. It is also an important annual event for sponsors/exhibitors to engage with current and prospective customers.
The Challenge:
Like many organizations, COVID-19 resulted in the cancellation of the in-person conference this year and the event was rescheduled as a virtual conference held September 15-17, 2020.
The FEW was especially challenging to sell to ethanol producers as a virtual event for two reasons:
The annual conference normally is something of a family reunion, with attendees bringing their spouses and old friends connecting and spending time together outside of the educational sessions. Virtual events can't replicate this feeling.
Production managers and other professionals who attend the event are not heavy users of online technology, so the concept was rather foreign to them.
The Solution:
To overcome these obstacles, BBI explained that a virtual event is almost like a video game. Attendees can still have conversations, walk around, find people and network just like at a real event. BBI partnered with Virtual Event Place to bring the virtual conference to life, including 12 educational sessions in four professional tracks. The platform had an easy user experience that enabled BBI to help sponsors easily change their booths and to add and adjust content as needed.
To increase exhibitor engagement across 172 booths, they added gamification with a bingo game in which exhibitors paid for a spot on the card and attendees had to go to the booth to get an answer to a question. They also created the FEW Bucks Program for producers only, to earn points for actions taken at a booth, such as downloading materials, dropping a business card or starting a conversation. They earned prizes such as Amazon gift cards and wearable merchandise. Both of these programs were very popular and generated good traffic for exhibitors.
In the past, BBI has provided two complimentary registrations for producer in the industry to encourage attendance, but for the virtual event, they opened registration up for anyone from a production facility to attend. The event remained available on demand for 30 days to enable participants to obtain any education they may have missed during the live event.
To give attendees a better sense of what the virtual event experience would be like, BBI created webinars in advance of the event describing what to expect as a speaker, as an exhibitor/sponsor and as an attendee.
Educational sessions were pre-recorded, and introductions were live, as well as question and answer sessions after the presentations. This blend of live and recorded content enabled higher quality control to ensure the educational content was well produced, but also facilitated engagement between speakers and participants like in an in-person event.
Sponsor bags with promotional merchandise and sales collateral were sent in advance of the event to help generate participant interest in visiting their virtual exhibit booths.
To create engagement at the sponsor booths, BBI used Bingo and FEW Bucks. The bingo game was open to all attendees, who visited each booth where they asked a question to complete their bingo card. The completed card was turned into BBI for a chance to win 1 of 2 $2500 prizes. FEW Bucks were targeted specifically at ethanol and biodiesel production professionals. To earn FEW Bucks, participants took action at all booths for a chance to earn the most points and the best prizes.
The Results:
The participants were blown away by the FEW event, which exceeded their expectations. Despite shifting from an in-person event to a virtual event, and the challenges this entailed, the FEW generated 700 participants and had 172 booths. Because of the gamification, the booth traffic was significant, with 669 unique visitors, 36,160 total views and an average of 210 views per booth. There were 84 completed Bingo cards, and two $2500 prizes awarded. More than 30% of attendees participated in earning FEW Bucks, with 212 unique buyers earning points toward prizes.
The educational sessions averaged 262 live attendees, and an additional 76 people per session that was accessed on demand afterward. The event also had 19 registered media from 14 different media outlets in attendance resulting in quality media coverage during and after the event. Social media activity was also strong, with exhibitors and media posting content in addition to BBI.
The customer satisfaction survey after the event revealed that 90% of attendees and 100% of speakers would attend another virtual BBI event.