10 Ways for Associations to Minimize Risk at In-Person Events in 2021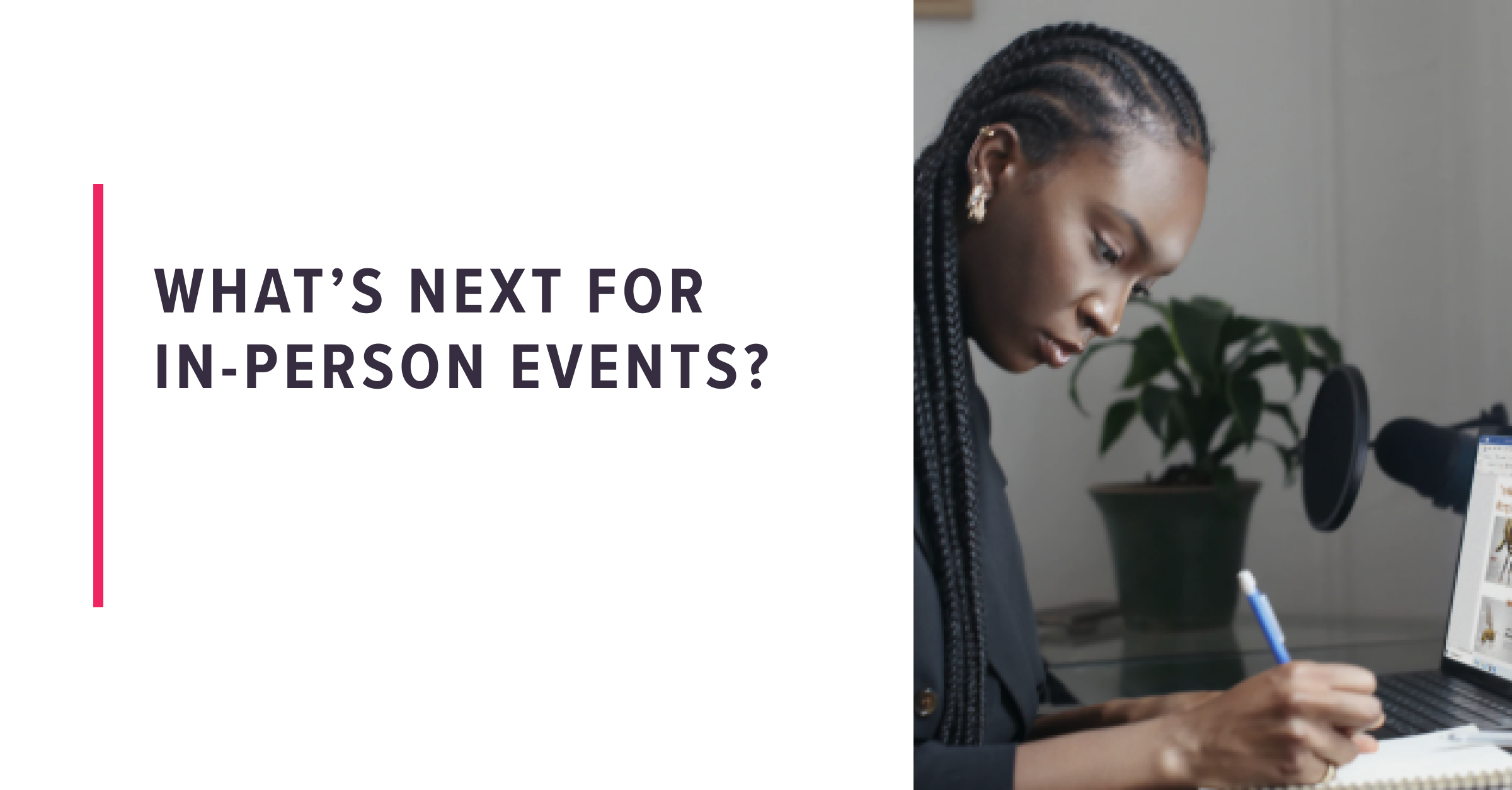 Recent surveys of meeting and event planners consistently show that about 80 percent will hold their next in-person event in the second half of this year, with a recent uptick in event planning in the U.S. due mostly to progress in COVID-19 immunizations. While this is great news for associations that rely on event marketing for revenue generation and member engagement, it comes with many risks as well as opportunities.
You know how to deliver a successful in-person experience, and many of your members are looking forward to getting together. But the best associations are planning for fall events that incorporate digital experiences to minimize risk and maximize their return on investment.
Here are our top 10 tips to plan your successful return to in-person events:
Offer Alternatives:

Give people options to attend in the way that works best for them. Meet attendees and presenters where they are regarding their health, budget constraints and personal preference by offering a hybrid event that provides both in-person and online experiences. There isn't a one-size-fits-all approach to hybrid events. Some have speakers who are livestreamed into ballrooms, others have keynotes in ballrooms livestreamed to attendees, or speakers pre-recorded for presentation to both audiences at once.

Separate In-person and Digital Events:

As an alternative to the hybrid event where both in-person and virtual experiences are held simultaneously, you can create unique experiences for each audience at different times. This approach is often easier for an association with a small staff that may be overwhelmed by tackling both the in-person and digital event logistics at the same time. Consider offering the digital or on-demand experience as a separate follow-up on a different schedule with unique content or engagement opportunities for the virtual audience.

Expand Your Reach:

Offer digital sessions on-demand or live to extend your reach to non-members, industry influencers, and in new markets or territories. Many associations learned last year that their virtual events had higher attendance than their traditional in-person events because they were more accessible to those who would not be able to easily travel to a meeting destination. These potential new attendees include your international members, as well as mid-level staff from member companies that aren't normally allowed to travel to events. If you separate your in-person and digital events, you can create two unique audiences, and reduce the risk of "cannibalizing" your in-person attendance.

Have a Plan B:

We haven't reached herd immunity yet, and new variants of the COVID-19 virus have been popping up all over the world, increasing risk for your event. To mitigate your risk of low attendance, or the reputational risk in the case of a potential outbreak at your event, it makes sense to plan a digital experience or a hybrid event in case you need to pivot and cancel your in-person event.

Repurpose Content:

You work hard to create learning opportunities for your members, but that content isn't working hard enough for you. Get more mileage from your content by breaking it into smaller pieces and repurposing it into website content, webinars, blog posts, social media posts, video and more.

Dig Deeper:

After the conference, create meaningful engagement in smaller, interactive online sessions to dig deeper on key topics and reinforce the learning. These sessions will benefit not only those who attended your event, but also those who were unable to attend and their respective teams. This digital follow-up can be designed to create a shared sense of purpose within your members' organizations.

Diversify Sponsor Opportunities:

The past year has been as hard on your sponsors as it has been on you, with many of them now skeptical of the ROI they will receive from your events. To win them back, offer a wider array of sponsorship opportunities or value-adds for multiple budget levels. Partner with your sponsors to create additional and differentiated opportunities in your hybrid experience that are designed to increase member awareness and sales leads for them.

Minimize Tech Risk:

If you're hosting a hybrid event with both a live audience and a virtual audience, you can reduce the cost and complexity of production, as well as the risk of technical glitches, by separating the two agendas. Stream recorded content or ask presenters to share their sessions twice – once for each audience.

Put Data in the Driver's Seat:

The digital experiences you offer to your event attendees will provide a wealth of data analytics that can inform future event and content planning. You will receive not only session attendance data but also behavioral insights to inform you about what content, speakers and formats work best for your membership. Leverage this data in addition to data from your in-person event to strategically plan your event and content calendar.

Create an Always-On Community:

As you venture back into providing in-person events for your membership, consider all that we have learned in the past year about how to engage via digital events and online content, which can be leveraged for a richer, more comprehensive member experience. With the tips above and a little creativity from your team, you can create a year-long continuum of engagement for your members across many touchpoints, including your website, social media channels and community/event platform.
Although hybrid event strategies will play out differently for every association based on your unique event goals, we know that taking a hybrid approach to your future events helps minimize risk and increase your impact. These 10 tips should set you up for a successful 2021 with a re-engaged and healthy membership that can't wait to get back to business with you.