ROBUST PLATFORM

EXCEPTIONAL SERVICE
Forj provides a custom-branded virtual event space for your annual conferences and every meet-up in between.
Discover a Different Kind of Virtual Event Platform
Forj is Purpose-Built for Associations and Professional Member Groups
Our platform provides fully customizable spaces that enable you to build relationships, maximize ROI, and create experiences that attendees, exhibitors, sponsors and presenters look forward to attending.

Our experienced Client Success team will help you maximize your event's impact from set up and configuration to performance and engagement measurement. Whether your event is a yearly conference or a monthly meet-up, we can deliver highly engaging, customized virtual or hybrid events that effectively reach participants and exceed your goals.
Engaging, Meaningful Attendee Experiences
Your virtual event attendees aren't just logging into another video conference. They're getting a personalized experience with concierge service and the ability to customize agendas to their interests. With Forj as your virtual conference platform, they can:
Search for, connect, and network with participants and exhibitors

Access sessions that don't fit their schedules on-demand

Keep the conversation going after the event with a networking group

Get the most value for their conference time and money.
High Visibility for Exhibitors and Sponsors
Forj provides many branding opportunities such as sponsored networking lounges, ad placements throughout the event platform, as well as gamification options to drive traffic. Our platform also makes it easy to create an eye-catching virtual booths and the tools to ensure sponsors are able to:
Attract attendees to their booth

Effectively showcase their brand and content

Generate and track sales leads

Make connections with attendees via live chat or online meetings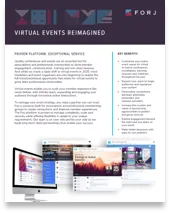 Learn the Key Benefits of the FORJ platform. Download
Virtual Events Reimagined

.
Virtual Events for All
Virtual events extend your reach beyond geographic boundaries and beyond your current members. And we believe events should be inclusive and accessible to everyone, regardless of their abilities. The Forj platform is ADA and WCAG compliant, and makes events accessible to attendees with hearing, vision, motor and other types of impairments to configure the experience to meet their needs.
Welcome
Lobby
This welcoming space is the primary navigation point to engage attendees in the event and is fully customizable to your brand, sponsors and event specifications. Drive attendees to exhibit halls, educational content tracks, networking lounges and one-on-one meetings, following their personalized agenda. If you're hosting a hybrid event, you can replicate the look and feel of your live event here!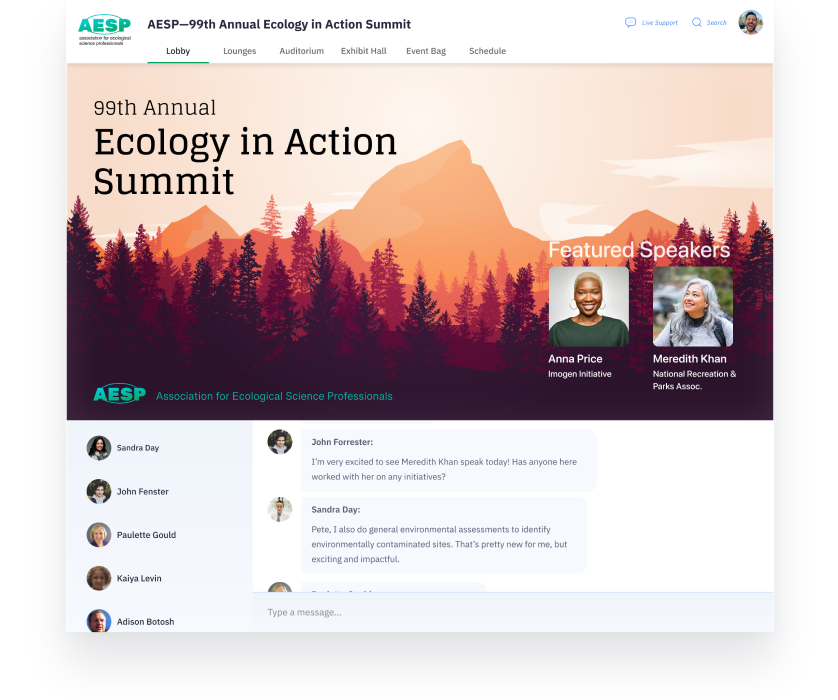 Learn
Auditorium
Host your educational content, keynote speakers and other sessions via live or recorded videoconference which can be streamed real-time for hybrid events. Optional configurations can include virtual break out rooms to enable smaller group discussions, and attendees are also engaged via live chat, surveys and live Q&A sessions. Video on demand is available after the event for attendees that may have missed a session. Continuing Education Units (CEUs) can also be tracked for attendees.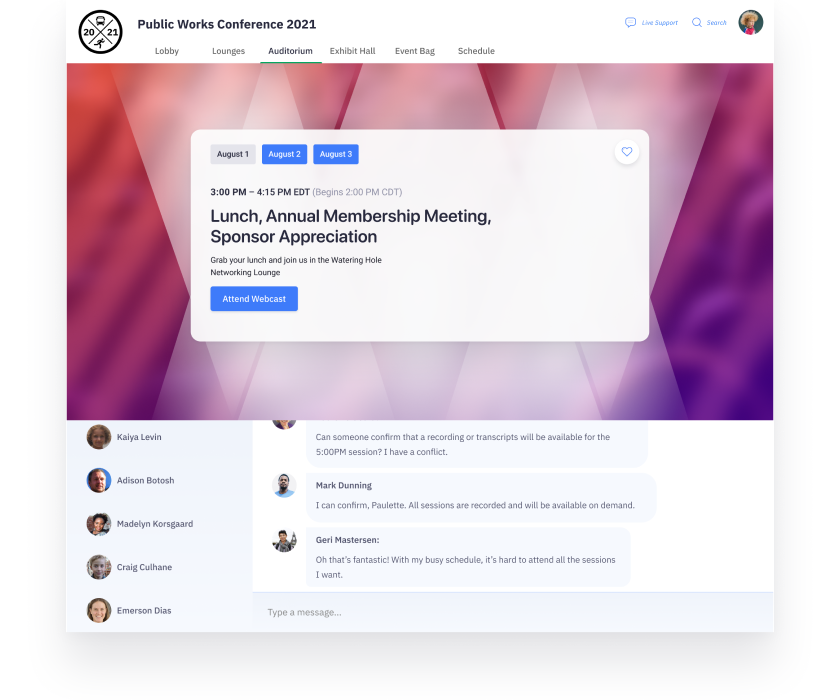 Research
Exhibit Halls & Booths
Event halls can be sponsored and themed to create different experiences for attendees, and exhibitors are fully searchable to make it easy for attendees to find and engage with them.
Each exhibitor can select a 2-dimensional or 3-dimensional booth template – or design and upload their own – to create their own look and feel, with support from our guides and classes offered three days/week. Attendees can leave a business card at the booth, click on a video product demo, download collateral, enter a raffle, live chat with booth personnel or set up a meeting with them. Exhibitors receive lead contacts from business cards left during the event, as well as reporting on booth engagement.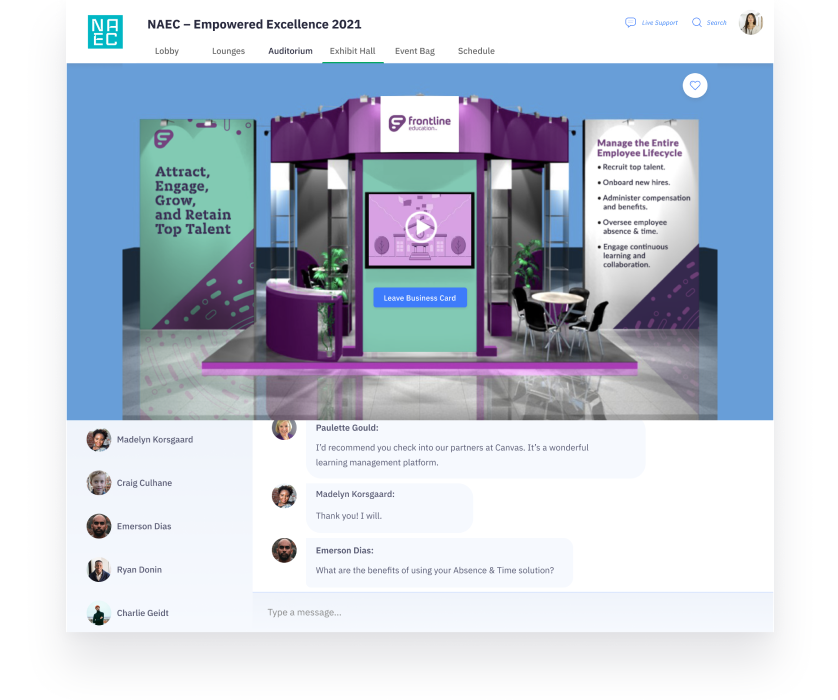 Connect
Networking Lounge
There are endless possibilities for networking lounges to be used for career networking, moderated discussions after a keynote speech, a product launch event with media and buyers, virtual cocktail parties with clients, or a meet & greet with a speaker. Gamification can be used to incentivize attendees to join an activity.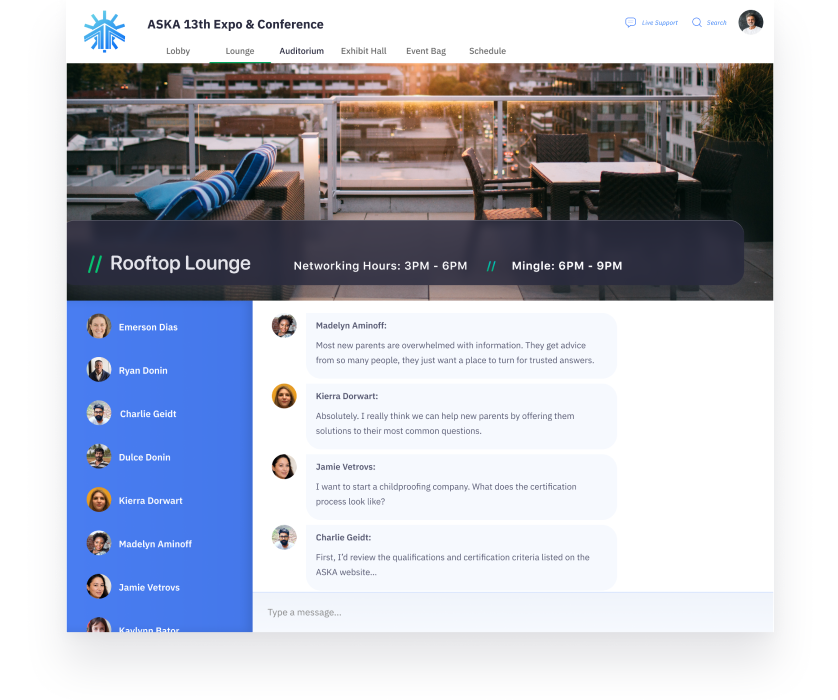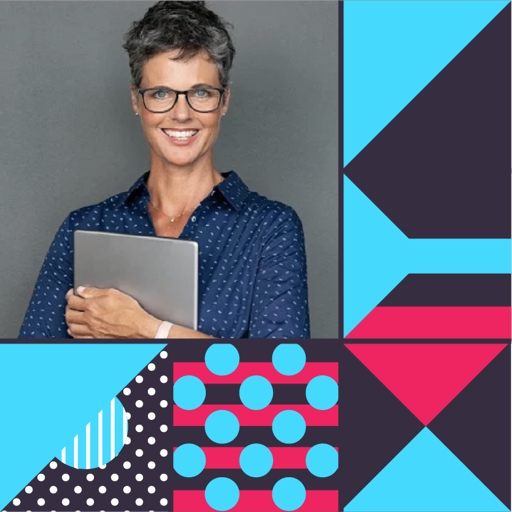 Want to learn how Forj can support your conference, event or tradeshow?
Contact us today.
High Touch Service
Our Experts Support your Success

Client Service
Our client success team works with each client to ensure their event strategy and logistics are designed for success and well executed for maximum ROI.



Branding & Design
We serve as an extension of your marketing team to ensure your custom designed look and feel are implemented seamlessly into the platform.



Event Support
We're standing by during your event to help with everything from logins to reporting. Your attendee satisfaction and overall event success is our top priority!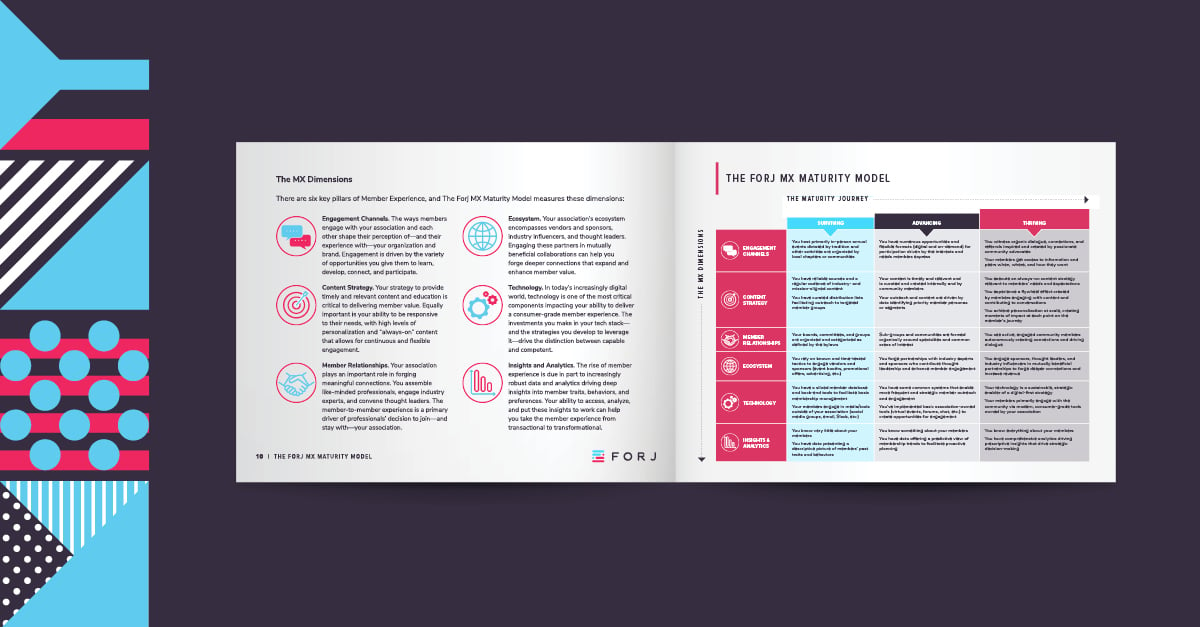 Resources for Community & Virtual Event Success
Forj Member Experience Maturity Model for Professional Associations
Read More

"We were apprehensive about virtual platforms, however after conducting multiple virtual events with Forj, we can't say enough how impressed we are with the Forj team, the platform and how easily attendees and exhibitors are able to network and learn online." John Nelson, Vice President, Operations, Sales and Marketing - BBI International
"You can imagine the personal pressure that comes with managing such an enormous event. From day one, I was amazed by Forj's commitment to us... Their technology delivered and their team worked seamlessly with ours to ensure our success." Laura Chajkowski, Director of Congress and Events - Federation of Humanities and Social Sciences