"As members' expectations continue to evolve, association leaders need to think differently. Assessing where your association lies on the continuum of Member Experiences(MX) will help you visualize a strategic -- and sustainable -- plan for the future, with actions that can generate results in real-time and down the road."

- Reggie Henry, Chief Information & Engagement Officer, ASAE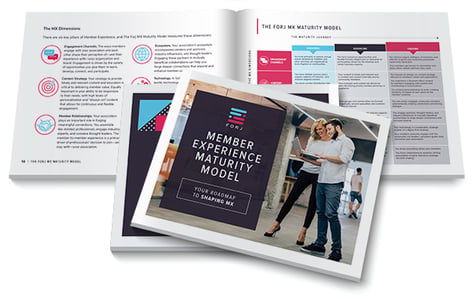 Member Experience Maturity Model
The Forj MX Maturity Model is designed to help you pinpoint strengths and weaknesses in your member experience, identifying where you are today and where you want to be tomorrow.
With this guide, you can begin mapping your MX strategy to:
Stay ahead of members' expectations, enabling you to better meet their wants and needs and grow your community.

Adopt a true MX mindset, aligning and empowering your team to strengthen your value proposition.

Create a more sustainable strategy, accelerating your digital transformation and enabling your organization for the future.
Download your copy today.
Forj is a leading member experience and virtual event platform for associations and a proud partner of ASAE.